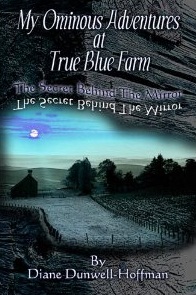 My Ominous Adventures at True Blue Farm: The Secret Behind the Mirror is a nostalgic historical fiction with a paranormal twist. The heroine stumbles on a secret that reaches beyond the limits of memory and traditional time limitations. The setting is an eighty-five-acre, turn-of-the-century farm located in the picturesque Blue Mountains of northeastern Pennsylvania. This narrative journey begins on August 18, 1955, the day that Hurricane Diane made its mark on the forks of the Delaware region of northwestern New Jersey and northeastern Pennsylvania, and transports the reader to a time when infamous gangsters earned a living selling illegal liquor in speakeasies. The author presents the historical facts for the purpose of educating young readers in a manner that is accurate and entertaining. One point is certain: life was a little too ominous, certainly eventful and especially heartwarming at True Blue Farm.
Paperback: 56 pages
Publisher: PublishAmerica (January 2, 2006)
Language: English
ISBN-10: 1413797709
ISBN-13: 978-1413797701
An Excerpt From The Book, featuring lyrics to the song playing in the background:
CHAPTER TEN- THE DREAM
I dreamed I was sitting in a rocking chair on the side porch. As I sat there rocking I noticed a short man with dark brown hair parted in the middle. He had the most adorable laughing eyes. He had a dimpled grin and a turned up nose. He sat in the other rocker on the porch and asked me; "How's it going cutie pie?" I just knew he was someone I knew well and simply adored. In fact I did know who he was and everything about him.
His name was Sam and he played the drums in a band. His band played the vaudeville circuit. As we sat there rocking Sam began to sing his version of a popular song. He not only sang but also played the accompaniment on his hands. He spit into the palms of his hands and clamped them together and squeezed them back and forth as if he were playing an accordion.
As he squeaked out a funny little tune with his hands he sang; "Oh barefoot days when we were just a kid." "Oh Barefoot days, Of all the things we did." "We'd go down by shady brook, with a bent pin for a hook." "We'd fish all day an' fish till night" "But the darn ole fish refuse to bite." "And how we'd slide down some ole cellar door." "We'd slide, an' slide, until our pants got tore." "And then we'd go home an' stay our bed, till Mother got busy with the needle an' thread." "O boy, what joy, we had in barefoot days."
Sam went on to tell me Al Wilson and James Brennan two famous songwriters had written Barefoot Days. They had written songs between the years of 1875-1923. Barefoot Days became popular when Al Jolson who was accompanied by the three Wainright Sisters on banjos performed it for the Musical Bambo when it toured the USA.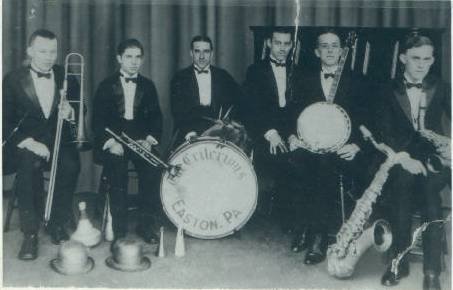 Sam Jones and his band The Criterians
The Sam in the story is based on a real person who was a part of my childhood. His name was Samuel Stewart Jones Jr. and he was a drummer in a band during the Roaring Twenties. He toured in the Vaudeville Circuit. In his later years he was a house painter. He was a family friend and taught us many a funny Vaudeville song and dance, including the background song Barefoot Days..